NACE International Technical Coordination Committee Selects Deepwater's Dawn Eden to Receive Scott Rice Memorial Award
09.25.2019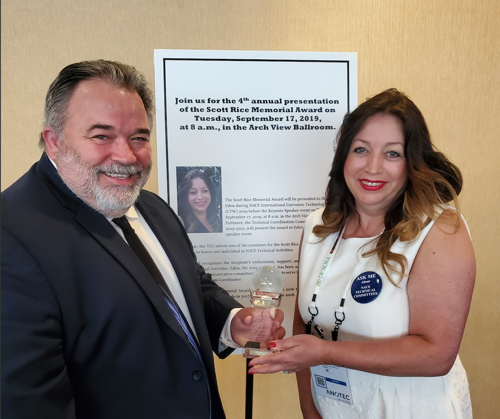 Left: Roy Fultineer, Chair of the NACE Technical Coordination Committee. Right: Dawn Eden, Sales & Business Development Manager - Projects at Deepwater. 
Every year since 2016, the NACE International Technical Coordination Committee solicits nominees for the Scott Rice Memorial Award. Given in recognition of enthusiasm, support and vision contributed to NACE Technical Activities and in honor of the beloved, late Scott Rice, this year, we are proud to announce our very own Dawn Eden was selected as the recipient.
The award was presented on Tuesday September 17 by Roy Fultineer (Chair of the Technical Coordination Committee) during the NACE Corrosion Technology Week conference in St Louis, MO. It's an honor to be recognized in Scott's name and both Dawn and Deepwater promise to keep the spirit of Scott alive within the NACE community via our passion for corrosion problem-solving and all the people involved. 
-Deepwater Corrosion Services Inc.