Deepwater retrofits anode strings on 69 structures in Black Bay, Gulf of Mexico
Deepwater retrofits 69 structures in Black Bay
Deepwater Corrosion Services, Inc. recently retrofitted 69 shallow water wellhead platforms, gas lift manifolds, and production platforms in Helis' Black Bay field. Due to the shallow average water depth (approximately 10 feet) and shoaling, a special retrofit system was needed. Deepwater's RetroLink™ suspended anode system was perfect for the job; the field's life was extended for 5 years without the need for underwater intervention. To protect pipelines and risers, custom continuity jumpers were installed to create a blanket of CP coverage for the entire field.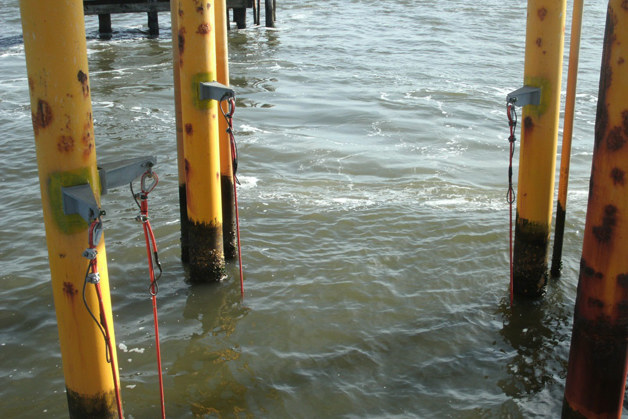 69 structures in 22 days
The installation for this field included a total of 115 RetroLinks™ and 89 continuity jumpers. These supplies were loaded onto a spud barge, which was moved around the field with a tugboat. The tug positioned the barge along the platforms and wellheads so the RetroLinks™ and continuity jumpers could be safely installed. The project's total installation time was 22 days.
No related download nodes