Prevent crevice corrosion at pipe supports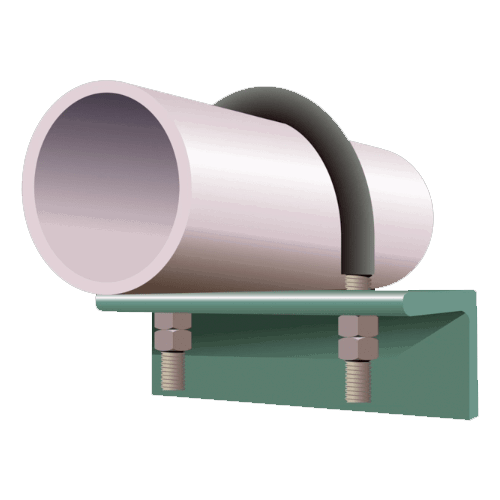 A FLAT SURFACE 
A pipe on a flat surface exposed to the elements is not properly protected against corrosion. There is no room for air to flow through.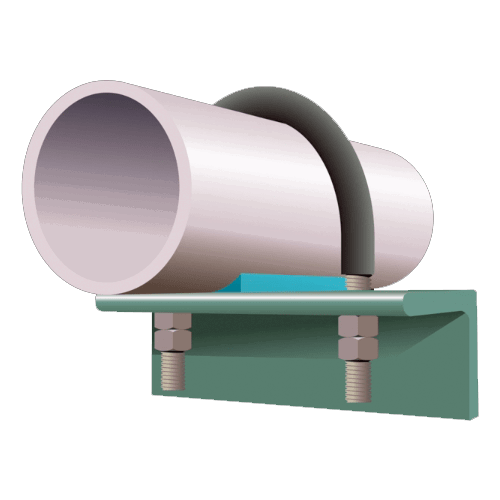 A CREVICE FORMS
A crevice between pipe and support will trap water. Since the water cannot escape, it creates corrosion that rapidly causes wall loss.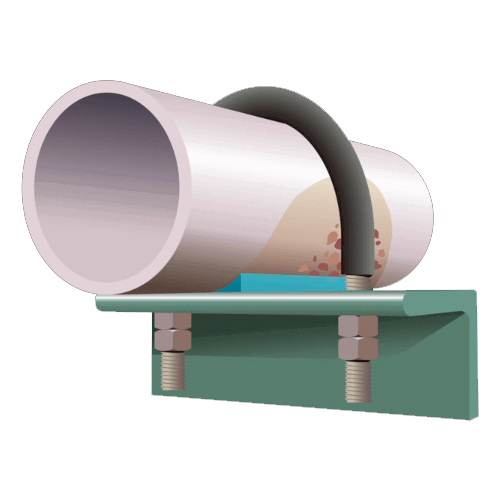 CORROSION BEGINS
The pattern of crevice corrosion is very recognizable as it spreads from the point of initial paint failure.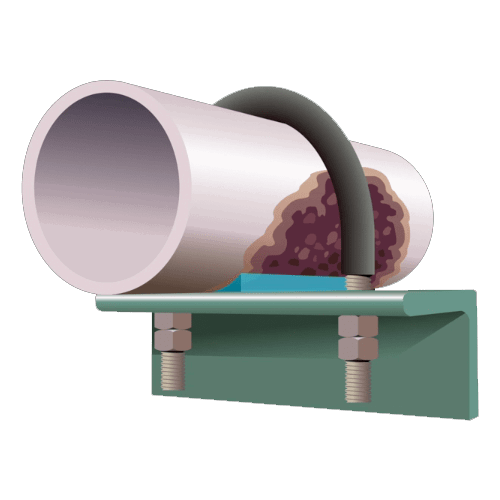 WALL LOSS
A growing crevice exacerbates the problem, and water cannot escape. Corrosion accelerates wall loss and causes dangerous leaks.
How do I-Rod® supports work?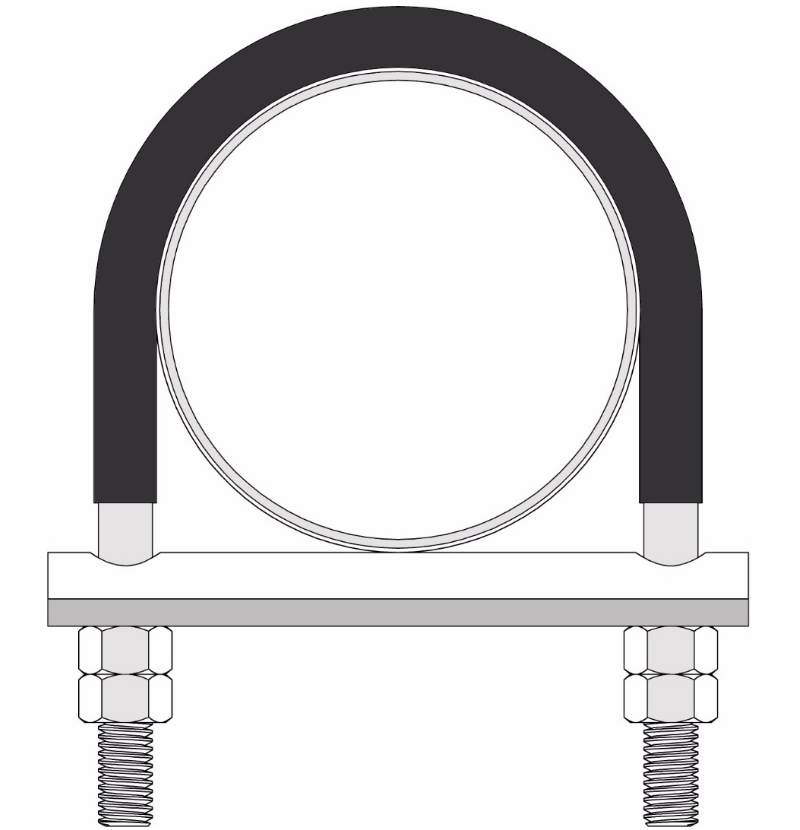 I-ROD® MATERIAL SUPPORTS THE PIPE AND
ELIMINATES MOISTURE
The half-round shape of I-Rod® repels moisture and protects the pipe coating by minimizing the contact point against round pipe. I-Rod® material is water-shedding and exceptionally strong, so it can support the pipe without deforming or creeping over time.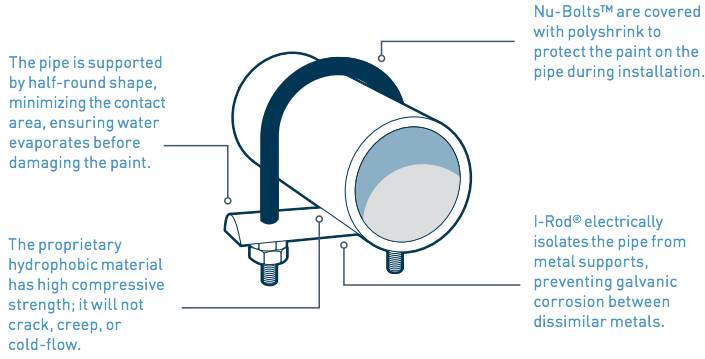 Beware of I-Rod® imitations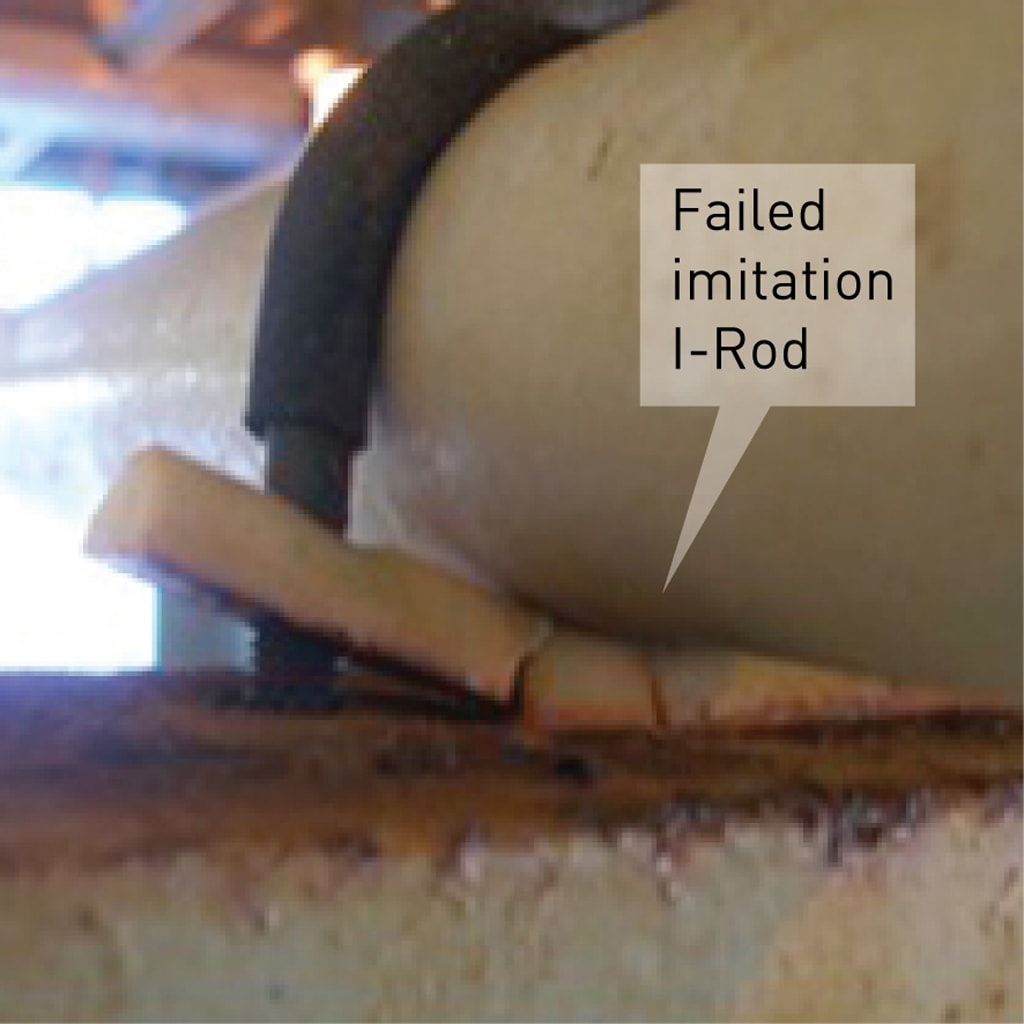 BROKEN AND CRUSHED IMITATIONS
I-Rod® material is extremely durable and can support enormous amounts of weight. While conducting offshore inspections, our technicians routinely discover imitations of I-Rod® that have broken or crushed, leaving pipes dangerously unprotected. Usually, these are low-grade imitations, but some use high-quality materials (Delrin and Teflon for example) with material properties unsuited for this application.
Custom sizes available
I-Rod® products are available in custom sizes for any applications specifying dimensions not found in our standard product listings. You don't have to pick from our existing sizes; just give us the required dimensions you need.
We can supply Nu-Bolts™ with custom U-bolt heights, longer thread lengths, larger or smaller inside gaps, longer or shorter flats, countersunk holes or any other non-standard configurations you might require.
Depending on the cradles they need to fit, I-Rod® Clips can be made longer, shorter or with a smaller inside radius to fit smaller clamps.
We can also install our polyshrink on other manufacturers' U-bolts if desired.
Just give us the numbers if you don't see exactly what you need listed in our catalog or on I-Rod.com and we'll be happy to accommodate you.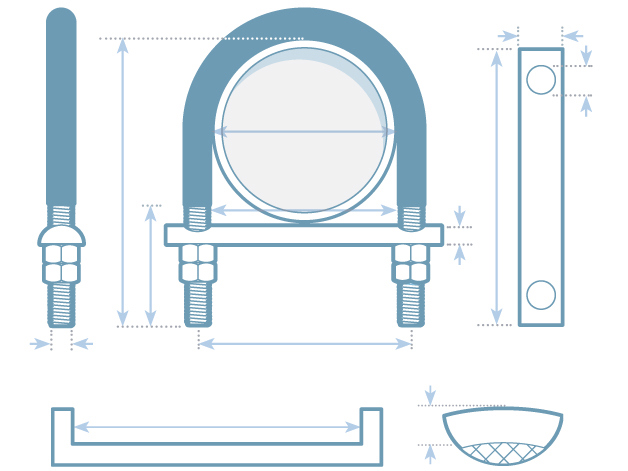 The dangers of FRP wear pads
Loose FRP pads catch and trap water against the pipe, causing significant corrosion in a short amount of time. Since pads make inspection impossible, the problem is not apparent until the pipe fails – which can be catastrophic. Sealing the seams to prevent water intrusion is rarely effective because the pipe and pad expand at different rates. Adding insult to injury, FRP pads cost at least $1,000 each to install.
A cautionary tale about FRP wear pads
A number of years ago, we learned of a facility that decided – rather inexplicably – to replace most of their existing, undamaged I-Rod® with FRP wear pads. The new FRP pads failed in less than a year, causing damage that cost $700 per location to repair. Undeterred, the operator replaced them with new FRP pads at a cost of $1,000 per location, and again, the pads failed within a year. After the damage was once again repaired at a cost of $700 per location, the FRP pads were all replaced with I-Rod®. The brief flirtation with FRP pads ultimately caused hundreds of thousands of dollars in damage. At the facility's locations where I-Rod® had remained in service, there was no damage at all. The operator subsequently re-wrote their global spec to include I-Rod® on all pipe supports.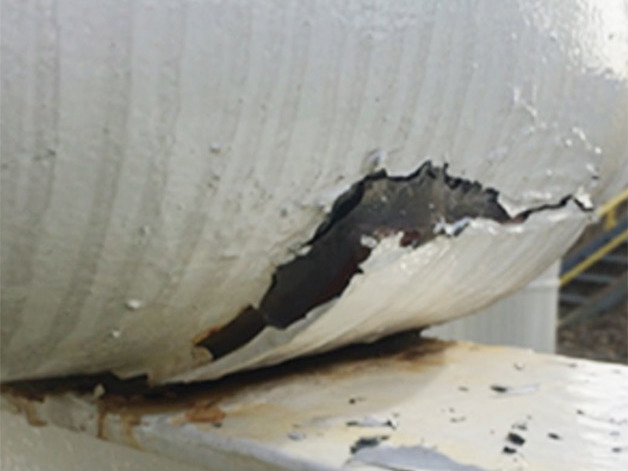 Additional information about I-Rod®
Download free Nu-Bolt® 3-D CAD models
Download free CAD models of Nu-Bolt® assemblies for use in designing your next project. Hundreds of files in the most popular CAD formats are available at the bottom of the Deepwater home page under 'Downloads'. Use GPS as the keyword to find the files.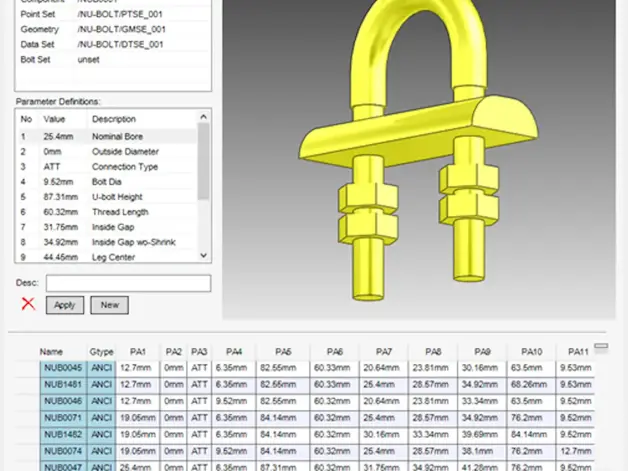 How to order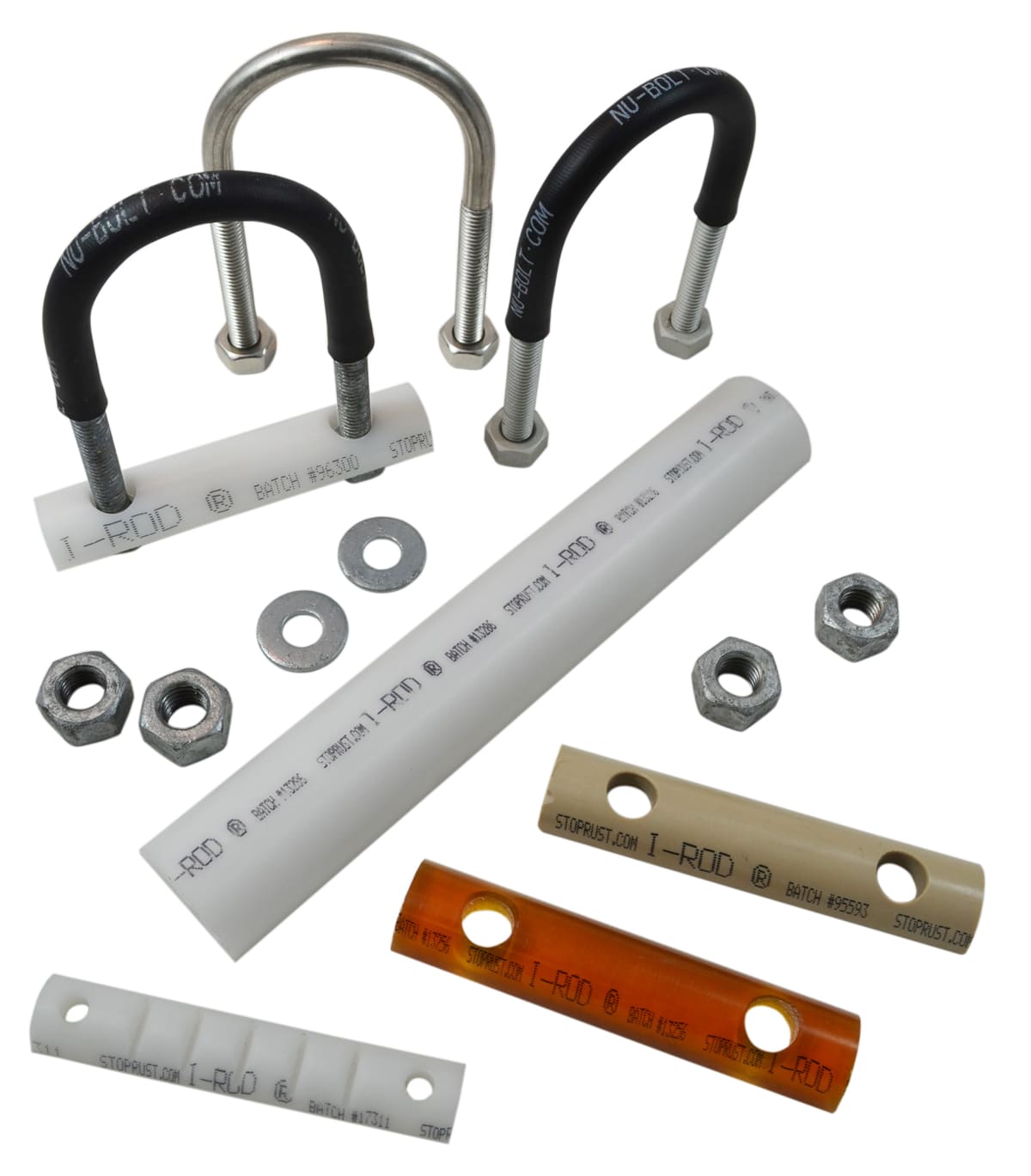 I-Rod® material, Nu-Bolt™ and more
I-Rod® pipe supports are only available from Deepwater Corrosion Services and our licensed distributors and international resellers. If you would like a list of local distributors, please send us an email.
Order online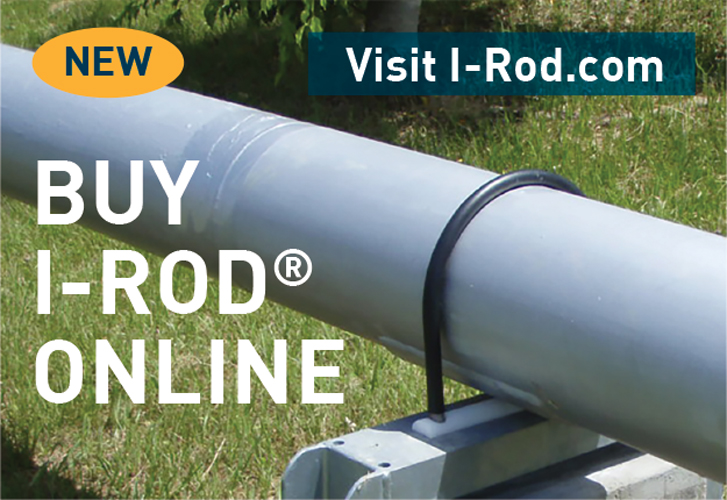 The I-Rod® online store is now open for business
The full line of I-Rod® products and accessories are now available at our new e-commerce site at I-Rod.com. All of our I-Rod® offerings, specs and downloads can be found in one place, along with convenient online ordering in the US and UK, with other regions coming soon.
Metric Nu-Bolt® download
Nu-Bolts are also available in metric sizes.
This downloadable list shows part numbers for metric Nu-Bolt® variant hot dip galvanized U-bolt with Polyshrink, 4 heavy hex nuts and a cut-and-drilled piece of white I-Rod® (max temp. +83c).
Other variants are also available. Please contact us for details.