V-String™ zinc reference electrode
V-String has a rugged conductor with a strong overbraid of polyester fibers for monitoring platform CP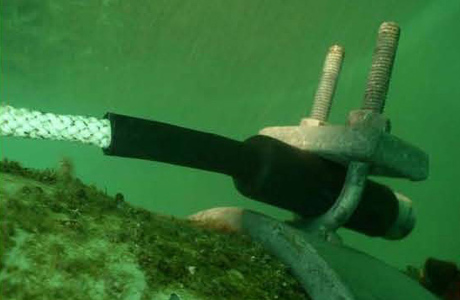 The V-String zinc reference electrode has a rugged conductor with a strong overbraid of polyester fibers
The Polatrak V-String electrode is a low-cost zinc reference electrode designed for offshore platform and pipeline monitoring. The ultra-rugged construction and ease of installation make this a viable general-purpose cathodic-protection monitoring retrofit system, or as a supplement to other Polatrak monitoring instruments such as the DR-2 dual reference cell, or the MA-1 monitored sacrificial anode. The V-String's accuracy is +/- 0.02 V, which is perfectly acceptable for a general-performance monitor.
The electrode wire consists of a galvanized-steel aircraft cord with a PVC jacket and a polyester-fiber overbraid. This combination makes the electrode almost indestructible. V-Strings have been installed on dozens of types of structures, from platforms and offshore pipelines to shallow-water wind farms.
Interrogating the electrode can be done in several ways. If installed on a traditional structure, the conductor can be wired to the surface and connected to a monitoring panel. In some instances, the panel can also be wired to a satellite transmitter. For subsea assets and offshore pipelines, the V-String can be interrogated by ROV using a SunStation subsea readout.