Custom cathodic protection test panels
Topside cathodic protection potential test panels for any monitoring system under all conditions.
Our monitoring panels are customized to suit specific customer requirements. The data from your Polatrak cathodic protection monitoring system can be interrogated, managed, stored and distributed in a number of ways.
Whether you choose the most basic handrail-mounted, manual-stab panel, the PLC-linked system or the satellite linked, internet-based system, all Polatrak panels are designed to be reliable and easy to use. Tell us your requirements and we'll provide exactly the interface you need.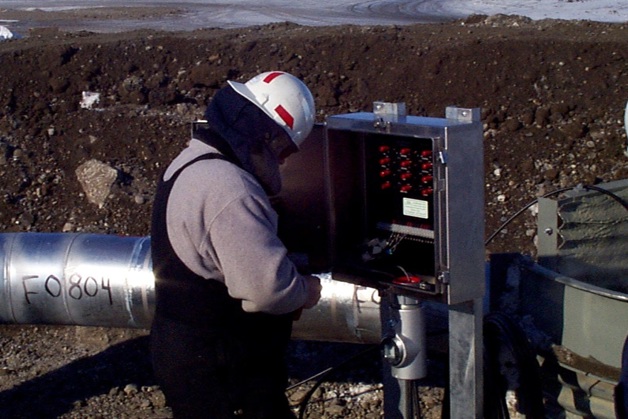 Outdoor panel on pipeline system in Alaska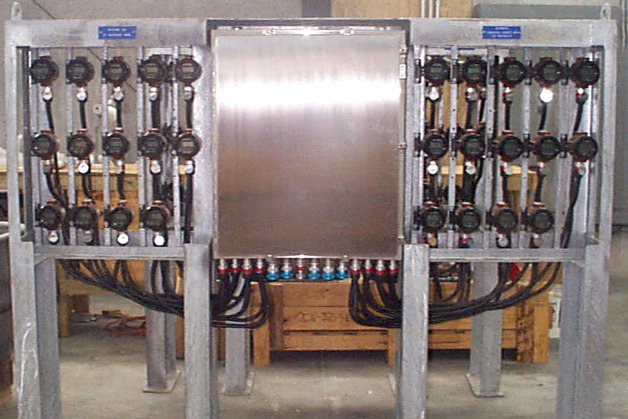 30-channel SCADA linked panel
Deepwater can provide test panels with all of the following options: Manual plugs or integral meters, indoor or outdoor, local or remote data storage, SCADA interface, local or remote monitoring or any other configuration you might require.
Permanent fixed-monitoring systems for offshore applications allow instant verification of cathodic-protection system performance at any time without commissioning a full subsea cathodic-protection potential survey.
For offshore structures, we offer test panels ranging from handrail-mounted designs interrogated by a simple volt-meter to fully-integrated panels operating in conjunction with the structure's existing electrical system.
SCADA integration is available on all of our monitoring panels.
ZINC ELEMENT
| | |
| --- | --- |
|  Material:   | Zinc (high purity 99.95%) |
| Weight: | 12 lb. (5.45 kg) |
| Dimensions:   | 6" x 5" x 1.5" (15.2 cm x 12.7 cm x 3.8 cm) |
| Anti-passivation:   | embedded carbon steel rods |
|   Accuracy: | +/- 0.02 volts |
SILVER CHLORIDE ELEMENT
| | |
| --- | --- |
| Material: | Sintered Ag/AgCl w silver wire core |
| Weight: | 0.09 oz (2.5 gm) |
| Dimensions: | 0.47" Dia. x 0.20" (1.2 cm Dia. x 0.5 cm) |
| Accuracy: | +/- 0.005 volts |
No related download nodes